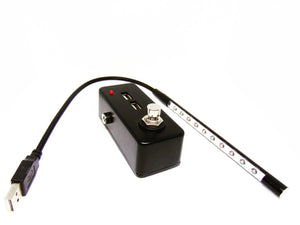 The Luminaire turns any 9-24 volt center negative output on your pedal board power supply into (2) USB Ports and pedal board lighting. Conveniently and seamlessly provide small footprint task lighting to your pedal board with the included gooseneck USB Led light (9v 100ma minimum). If your pedal board can supply higher amperage outputs, you can use the Luminaire to charge/power your phone, Wireless Headphones, Fishman Pickups Battery pack, or any other high current USB accesory. Provides a 3 Amp max current rating and 1.5 Amp when both ports are in use. All enclosed in a matte black 1590A aluminum enclosure with a red Led indicator light and on/off footswitch.      
Enclosure Dimensions (3.65" x 1.52" x 1.22")
Led Light Dimensions  (10ct Led light Bar-6", Goosneck-8")
Free United States Shipping and $9.99USD for International Shipping.